ONE-TOO
Of measurement tools tailored since 1971
One-Too is an SME: before other material and business considerations, ours is a human adventure, made of emotions, sharing and exchange to promote useful innovation.
Over the years, our fruitful exchanges have led to strong partnerships and enabled One-Too to build its reputation.
For our customers and partners alike, One-Too offers what is not available elsewhere: with responses to requests or our ability to anticipate market trends, we primarily provide solutions to a variety of issues. Thanks to our overall expertise, we approach all our projects with a concern for practicality and efficiency for the end user.
With half a century behind us, we are following the path we chose 10 years ago: that of continuity and innovation. Innovation is at the heart of our choices for the future, with new markets, new energy, new technology, and also the international development of our Moment Alpha brand.
Trade
In the course of fifty years of business, One-Too has built up a reputation of an expert in the design and manufacture of tailored industrial metrology systems for the acquisition, evaluation and characterisation of physical quantities.
In concrete terms, that expertise has driven all our great successes, such as:
our belt installation solutions, like Install Auto
our belt tension meters such as Newten, Diapaz and Cycl'opt
our screwed assembly solutions, with Moment Alpha angle torch wrenches for manufacturers and repair workshops
our Audiobox® sonometer, which can locate the sources of noise
our compression meter Amédée, for acquiring physical quantities
our Testair tyre pressure tester
etc.
That know-how is the result of proven methodology and close collaboration with our partners, and also a state of mind that has been carefully fostered for over 50 years.
Our experts are at your disposal for studying your specific needs and finding a solution that will help you improve the productivity and quality of your own services.
Contact an expert
Timeline
Our history is that of an SME that has come through decades with the same eagerness to innovate in the interests of users. It is the history of a company that has been able to adapt and diversify its competencies to better serve the market. Today, One-Too sets the standards for the design of tailored solutions for industry.
1971 - 1985: Beginnings
One-Too was founded in 1971. At the time, it was called SEEM (Sud-Est Electro-Mécanique) and led by its founder François Monnet. The company was an expert in carburettor testing.
SEEM went on to revolutionise the market, particularly with its test and carburetion adjustment bench or its suction drainer.
The end of the production of carburettors in Europe scheduled for 1991 guided the company towards a fundamental change in its strategic focus.
1985 - 2000: from carburettors to belts
Jean-Pierre Marlier, an expert with a passion for automobile vehicles, became CEO of SEEM in 1985 after working for the company for many years.
The arrival of Jean-Pierre Marlier as the new leader of the company coincided with the transition from the carburettor business, which was on its way out, to the belts business. The company adapted to European pollution standards and market demand. By 1985, it had become a specialist in belt tension measurement with the Band'O'mètre; between 1989 and 1999 it mastered the tensioning and installation of timing belts and accessories, both automatic and semi-automatic, with CTI, Résotronic and Install Auto.
The change in direction of the company was a success. Partnerships with major players in the French and international automotive industry developed under the able hand of its CEO.
In 2000, One-Too continued to innovate in belt tension measurement, with its Newten and Diapaz acoustic tension meters and the optical Cycl'opt tension meter.
2001 - 2010: Diversification of activities
In 2001, SEEM became One-Too. The company continued to innovate by diversifying its competencies in order to address the needs stated by market players:
Wheel alignment : bench for adjusting the alignment of all four wheels, using a contactless, automatic or manual method
Clutch : system for translating into objective data the subjective perception of gear changes with the MEPV Pro
Screwed assembly development of the first Moment Alpha angle torque wrench
Tyre pressure monitoring system (TPMS): Protoctair valve forcer
Belt installation: : USBi, universal belt installing tool
Acquisition of physical quantities : Amédée, cylinder head pressure tester
Electrical diagnosis : Discap is an electrical discharge tool for the ultra-capacitor fitted on STT
stop-start systems.
2011 to now: reorganisation and internationalisation
From 2011, One-Too picked up momentum, first by buying out its wiring and electrical harnesses manufacturer Contact Azur, and also by developing its hub of partners. New innovative solutions emerged:
Audiobox®, a sonometer that locates the source of noise in the passenger compartment and engine
Testair, which improves on and replaces Protoctair for tyre pressure monitoring (TPMS)
The Moment Alpha range was developed further with the One-Too Moment Alpha electronic angle torque wrench and the Visa test bench for the optimised management of the tool base, followed by the development of a Wi-Fi torque wrench.
Alpha Clamp, the clamp tightening/loosening tool for precise electronic control of the proper engagement of the clamp.
One-Too began focussing more energy on international development and aviation, by collaborating with major manufacturers in the field.
It split into three business units: the legacy business of One-Too, manufacturing of cables and electrical harnesses withContact-Azur and the creation of the Moment Alpha, make for screwed assemblies.
Even now, One-Too has retained its innovative spirit and continues to work with major manufacturers in the market to design the innovative solutions that you will need tomorrow.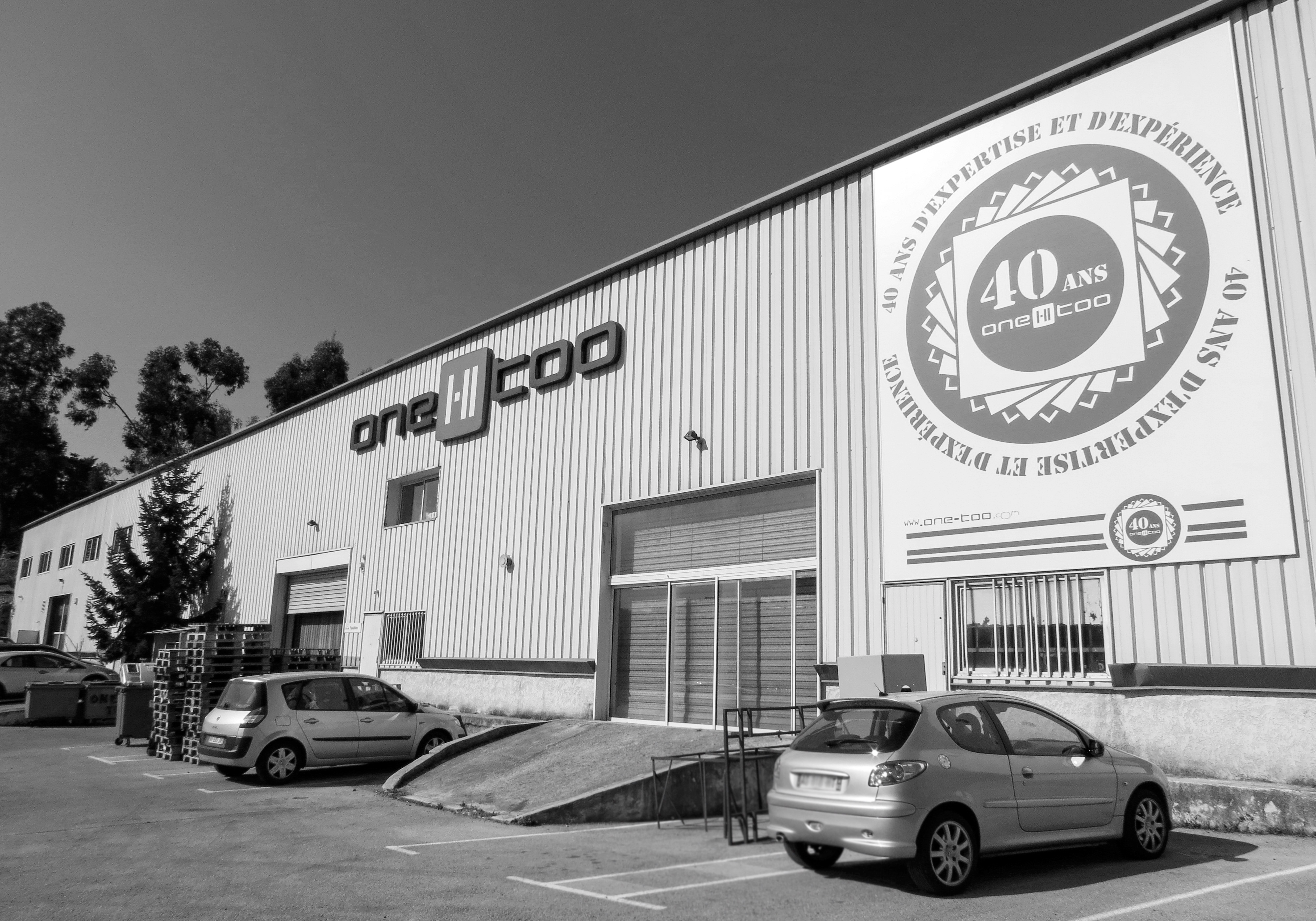 Even now, One-Too has retained its innovative spirit and continues to work with major manufacturers in the market to design the innovative solutions that you will need tomorrow.
Receptiveness and anticipation
Building up lasting partnerships
Values
The story of One-Too is a human story first and foremost. Our company owes its development to its people, who have been passionate about their work since 1971, and to our partners, who work alongside us.
We intend to protect that philosophy of a human dimension and closeness within our teams and also with our partners.
"It would seem that perfection is reached not when nothing can be added, but when nothing can be removed" Antoine de Saint-Exupéry
At One-Too, a perfect innovation is one that strikes the right balance, and offers high efficiency while removing what is unnecessary.
The Amédée compression meter, Amédée, symbol of useful innovation
Amédée, which is named as a tribute to Amédée Gordini, is a cylinder head testing solution for combustion engines.
This is a tool for mechanologists, automotive specialists who are responsible for analysing problems before they initiate the remedial procedure.
A safe tool with the ISO kit, including a pressure gauge and a nozzle
A cost-effective tool that contributes to the fight against waste.
The Amédée compression meter makes it possible to extend the life of repairable engines instead of replacing them.
For useful innovation and to offer tailored solutions, one needs to be alert to the current needs of the market and anticipate its future needs.
Those characteristics of receptiveness and anticipation have made our company what it is, and continue to feature among our strengths. We started off as experts in carburettor testing; these two values subsequently enabled us to master belt installation and tension measurement. Then we became overall experts in the design and manufacture of industrial metrology systems for the automobile industry, mechanical engineering and aviation.
All our products grow out of strong collaboration. Our close relations enable us to identify the needs of our customers and offer them purpose-built solutions.
More than just customer relations, we are keen to develop up lasting partnerships based on trust, support our customers over time, track and understand their needs and provide an effective response.
The One-Too hub: more than a network of partners
The One-Too hub is the solution of the future, and is a network of expert partners. In a spirit of joint action, complementary companies work hand in hand to develop new solutions. Markets and customer bases are inevitably extended, and catalogues grow larger.
The One-Too methodology as applied to the quality management efforts we apply to each project puts excellence within our reach. Know-how, technical competencies and thorough knowledge of markets are crucial, but cannot be enough on their own.
One-Too has struck the balance between humility and ambition. Its high standards are supported by the special relationships we have with our customers and partners. These are marked by sincerity, loyalty and confidentiality. The success of each project is a constant goal, which can only be achieved with effective team work and lasting collaboration with customers and suppliers.
Eco-design has become indispensable in recent years, enabling One-Too to ensure that its solutions endure over time.
Being committed to sustainable development does not just go without saying in view of the social responsibility of our company, but is also a methodological requirement for business performance.
Eco-design has now become fashionable, but for One-Too, it is a firm belief. Developing sustainable solutions using processes that protect the environment involves working towards efficiency and durability.
For us, eco-design is in line with one of our fundamental precepts: doing away with the superfluous and keeping what is essential.
Industry 4.0
Towards the factory of the future


Today, we see the emergence of a fourth industrial revolution, that of digitisation. That revolution will shake up (and is already shaking up) manufacturing methods, just as mechanisation, mass industrialisation and automation did in their times.
What is digitisation applied to industry? It is a totally new way of organising production resources, a link between the virtual (digital) and the real. It takes different concrete forms: the Internet of things, artificial intelligence, cloud storage, big data, 3D modelling, augmented reality etc.
The "factory of the future" promises well-being in the workplace, puts people back at the centre of the factory, particularly by doing away with tedious and time-consuming tasks. Is a machine about to break down? It will anticipate, locate and report the future problem on its own, and even take charge of ordering the defective part or parts as a bonus.
It will be within a wholly interconnected system that takes account of existing production resources and new technology.
Producing more, faster and better
For industry, this revolution is a godsend. It can help produce more, faster, achieve better quality, using more complex methods, with greater flexibility, efficiency and safety. All of which will result in greater profitability. It can help save costs, take better account of the specific needs of the customer and offer ever more personalised services. The watchwords are innovation, flexibility, connectivity and traceability.
Industry 4.0, the logical way forward for One-Too
From the beginning, the philosophy of One-Too has been that of taking account of the specific needs of each customer while designing products, and then developing the products to address a wider demand.
Like the Moment Alpha range, the first products of which date from 2001, we offer innovative, flexible and connected solutions that promote traceability and analysis to optimise the production process of our customers. Those characteristics are suited to the new industrial revolution. The Industry 4.0 spirit is thus the natural extension of the development of One-Too.